Essay Edge is a service which mostly edits various papers and gives their clients certain recommendations. If it happens that they give wrong recommendations it may have serious negative consequences for their clients. To prevent these people from being trapped we prepared the EssayEdge review.
Mainly, the company promotes editing services. First of all, they suggest editing personal statements. As they state they cover MBA, graduate and college statements and even cover the statements to the medical and law educational establishments. The company assures that they hire only the Ivy-League of graduates, those who studied in Yale, Harvard, Stanford, or Princeton. As it is underlined on the website, only these people really understand what it takes to enter these establishments. Nevertheless, the only thing which spins on my tongue is the question: what if they give a wrong recommendation and you fail?
Except for their main services, the company also suggests editing of the academic papers. I would say that this is quite a useful service for those who writes their papers on their own and just needs a second pair of eyes to check them.
The level of prices
The service has a system of pricing based on the number of words in your text and on the type of references the client gets. There are three types of packages:
proofreading, which costs from $59 for 300 words and up to $139 for 2400 words
standard, which costs from $199 for 300 words and up to $239 for 2400 words
premier, which costs from $359 for 300 words and up to $529 for 2400 words
Of course, the difference lies not only in the number of words in the primary text. Proofreading package only clears your text from mistakes. Standard package, which is indicated as the most popular, includes proofreading, recommendations on the tone and content and more relevant essay. And the premier package includes everything enumerated before, and it also includes a brainstorm session, two phone sessions with the editor, two circles of critiques and 2-week support from the editor.
I just wonder if there are many people who can pay $500 for proofreading, recommendations, and essay, especially if they send their statements to several universities at once.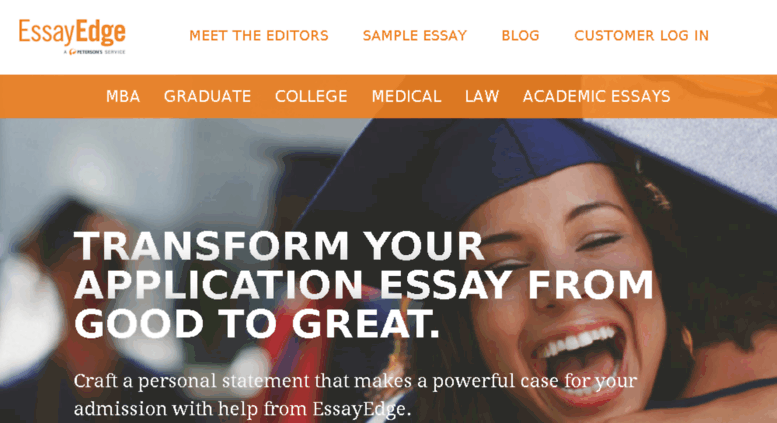 Additional pros and cons
The company shows samples of writing before and after their editing. They also show recommendations they give to the clients. Thus possible clients can compare, see the difference and judge whether they need such changes. Of course, this is a very useful information for the possible client. Then, EssayEdge has a blog on their website. Unfortunately, it is not that much alive as I wish it were. The latest article was published in 2015.
The absolute minus of the company is the pop-up window they have set. It constantly prevents you from reading the text. I must also say that the website is not that comfortable as it could be. It seems that there is nothing too difficult on the website but when you try to understand what buttons you should press you can become somewhat irritated.
I was glad to know that the service has a customer support. Although it is not clear how they work and when you can expect their reply. To contact them you can use their phone numbers or online chat.
Trial order
To try their service on a real task I composed a statement and sent it for the proofreading. The variant I received really didn't have any mistakes I made on purpose in my primary text. Proofreading was done very well, just as it was promised. Otherwise, I had a right to return my payment. Nevertheless, I am not sure that such proofreading has a reasonable price. As for me, this is too expensive.
Conclusion
Essayedge.com is not a writing service. It would be suitable only for those people who can write papers his or her own. The service will only suggest you proofreading, editing, certain consultations but not more. It seems that the company is more suitable for those people who already have certain education level and just need some slight assistance. In general, the service seems to have too narrow area and too high prices.