Bid4papers.com is a writing service which works on the bidding system. It is not widely accepted principle of working and it may be difficult for some people to operate in such manner. Let's read Bid4papers review below and see how it all works. Maybe this would save you from the extra problems.
General Impression
The system of bidding operates in such a way that you receive offers from different writers. You can ask them questions and see who suits you better.
I've checked their profile at the Facebook page. It has more than 500 followers. But what I found was a range of negative comments on their work. Someone wanted a complete refund. Someone wrote that the writers were not English natives. Frankly speaking, it's good when clients leave negative feedback and te companies do not delete them. It urges more believe than any completely perfect results.
The website has quite a nice web-design. All the terms of ordering seemed quite clear.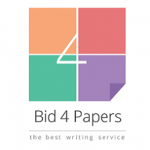 As to the writers, I didn't like that they all describe themselves as the specialists in all the spheres of writing they could enumerate. One and the same writer prepares works in English, Health Care, Computer Science, Philosophy, Business and Management, and other incompatible subjects. But as you can see the same person can not be so widely educated. So obviously this writing is based on simple rewriting of other works. I also assume that their writing includes work with numerous sources, but still they cannot be experts.
The website contains an order form which includes several different kinds of writing such as articles, essays, dissertations and other basic types. Nevertheless, you can try to choose any other type of the document. Just choose what kind of writing you need and see how writers react to this purpose.
I didn't find any guarantees that my order will be revised if I need it. What surprised me even more, I didn't find their customer service. So if I have any questions as to the writer or results of his or her work I can rely only on myself.
I should mention that the company has its blog. I always appreciate ths factor very much. It contains various stories concerning writing.
Price Level
There will be no particular price-list on the website which uses bidding system. For a trial order I gave a task of the 3-page essay which should have been ready in 3 days. The writers offered writing from $50 to $200.   The final price is mostly affected by the characteristics of the order, namely its kind, its subject, volume, and the time limit.
Trial order
For my trial order I chose a writer who seemed the most reliable. Unfortunately, he misunderstood my requirements so all the process went wrong. After the writer submitted me his first version he didn't have enough of time to make necessary amendments anymore.
I prepared quite a clear task for my writer and I really hoped that he would understand it without problems.

Since the company has no customer support and all the process is built on my communication with the writer I simply couldn't do anything except waiting until my writer would reply to me. When he finally returned to a contact it was too late to make any changes. So practically what I've received was an unsuitable quality of writing and complete absence of any support from the company.
Conclusion
As to the advantages:
The service has an interesting blog in the writing theory.
You can choose the price bid which is the most acceptable for your offer.
As to the disadvantages:
There is no customer support to help you in case of necessities.
You should be well-experienced in choosing the writers to make the right choice.
I wouldn't recommend Bid 4 papers to other students as I don't think it is a good practice to order papers without any check of plagiarism and without any customer support. If you had any experience with this website or have any advice to share with others, you are welcome.