This time we have prepared the CoolEssay review for you. This service suggests reasonable prices for the writing so we decided to check if you can trust them any of your tasks. The Cool Essay provides an extremely generalized list of their services. Obviously, if you need to know something in details you will need to contact the customer support. The service simply enumerates that they provide different written papers for high school, college, and university students. Except that, they also work with business requirements and provide editing, proofreading and rewriting services. When I see such kind of service as rewriting it always makes me be suspicious about the company. Usually, it means that they often don't write but rewrite papers of some other authors.
The level of prices
The prices for writing are divided into 5 groups depending on their complexity and the deadline which varies from 4 hours to 14 days.  The company has created the following scheme:
– high school: from $33 for 4 hours to $10 for 14 days
– undergraduate 1-2: from $35.90 for 4 hours to $13.50 for 14 days
– undergraduate 3-4: from $37.90 for 4 hours to $17 for 14 days
– Master's: from $44 for 4 hours to $26 for 14 days
– Doctoral: from $49 for 4 hours to $27 for 14 days
I just wonder what they can create for the Master's or Doctoral level in 4 hours. I would be glad to see the sample. What I liked about their scheme is that it automatically shows the deadline date and time so you don't need to calculate it.
Similar price scheme is also represented for rewriting, proofreading, editing and business writing. The prices can be shown in American or Canadian dollars, in euros or in pounds. In general, the prices are not the highest ones. Moreover, some of the papers' parts are provided free of charge.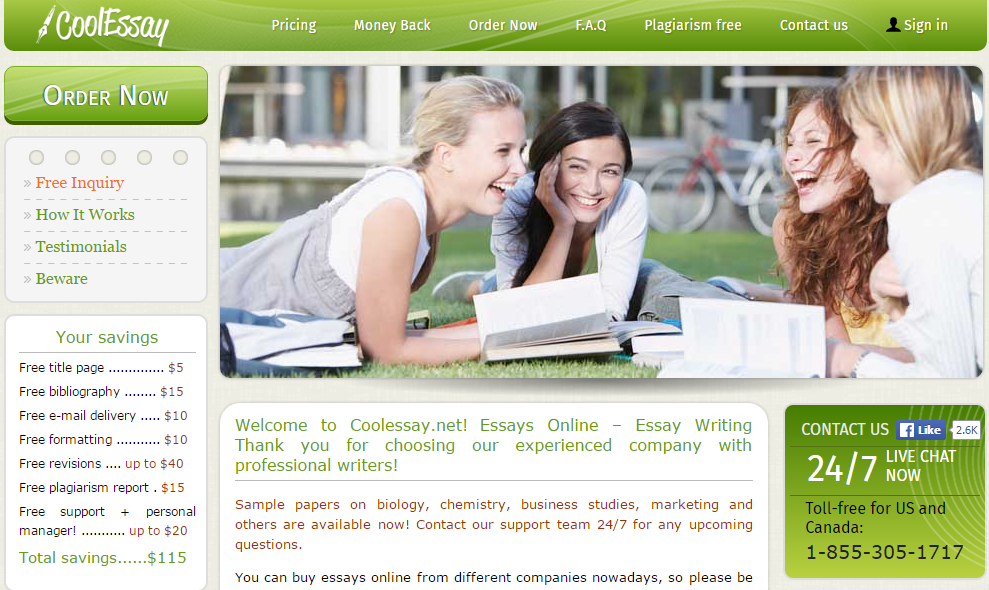 Guarantees
The company gives standard promises but when you read in details how it all works you begin to doubt whether their policy will correspond your needs. Thus, the service has money back policy. But first you need to protect your rights in the Dispute Department. And who knows what kind of decision they can take. So when you see 100% money back guarantee on their site don't trust them at once.
As to other guarantees CoolEssay also provides:
delivery in due time
high quality of writing
privacy policy
revision policy
safe payment system
All the points mentioned above have various accompanying information, so you never know for sure what kind of result you can get.
Customer Support
The service has an active customer support. As it is stated, it operates 24/7. You can contact it via phone numbers or a live chat. The company has a free phone number for the United States and Canada. As to the chat, sometimes you need to wait before they answer. But as a rule, their operators reply accurately and can help you a lot with all your questions.
Additional pros and cons
As to the advantages, I liked that the service published some samples of their writing. They were written for different levels of complexity. Unfortunately, there are no samples produced for the Master's or Doctoral degree.
Then I was really surprised by their blog. They publish new articles regularly. These articles have different subjects: some of them cover educational topics, some of them have more psychological aspects. But nevertheless, the blog must be really interesting for the students and I suppose their clients really read these texts from time to time.
Trial order
I kept to my tradition and ordered a short essay for a try. I received it in due time. As to its composition, it contained several really good ideas and I had no complaints as to that. Nevertheless, I have found a number of mistakes in spelling and grammar. To my mind, the paper was written by the foreigner, not a native English speaker.
Conclusion
The coolessay.net is far from the strongest service I have ever tried. They have not the clearest website. Moreover, they do mistakes in papers. If you want to order something not that difficult and you are ready to make some corrections after all, you can risk and order there something. But if you need to get something perfect, you should look for another service.